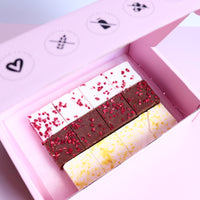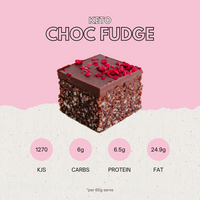 Keto Mixed Box
KETO FRIENDLY MIXED BOX - 12 PIECES

Following a keto friendly diet or simply want low carb and low sugar treats? Our nourishing Keto Box is the one for you!
This mixed box includes a variety of our delicious slices made to suit your low carb, low sugar, keto and vegan needs.

Each Box Contains 3 Slice Flavours (4 of each):

Lemon Pie
Red Velvet
Choc Fudge

Stock your fridge or freezer, gift it to a friend or take it along to any occasion. We're constantly innovating and creating exciting new flavours, so keep an eye on what we're doing and feel free to send through any requests for the next box!

Made with love from natural whole foods:
Vegan
Dairy Free
Gluten Free
Refined Sugar Free
100% YUM


MACROS
Macros for these slices are in the images!

ALLERGENS
Contain tree nuts and peanuts. May contain sesame and sulphites.

STORAGE
Our Cakes and Slices can be kept in the freezer for up to 6 months, or once thawed used within 7 days. But we doubt they will stick around that long! Store below 5 degrees at all times.